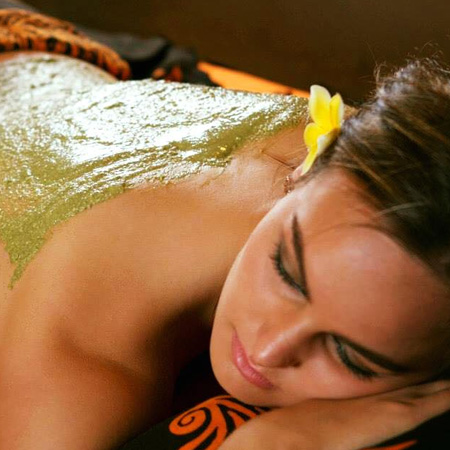 BODY SCRUBS
45 Mins – 180,000 rp
Eco Bali Spa's natural exfoliations remove your dead skins cells and toxins revealing the youthful, healthy layers underneath. It's the skin you'll love to live in.
Coconut – Nourishing and revitalizing
Coffee – Antioxidant and soothing
Green Tea – Antioxidant and anti cellulite
Seaweed – Nourishing, glowing and revitalizing
Chocolate – Nourishing and antioxidant. Maintains skin elasticity
BODY MASK
45 Mins – 180,000 rp
Our natural body mask nourishes and restores your skin, while the soothing head and face massage will relieve any stress and tension you may be carrying with you.
Green Tea Body Mask – Detoxifying and soothing
Seaweed Body Mask – Nourishing, glowing and revitalizing
Chocolate Body Mask – Nourishing, antioxidant. Maintains skin elasticity
EAR CANDLE
100,000 rp
This treatment cleanses your ear by removing sebum.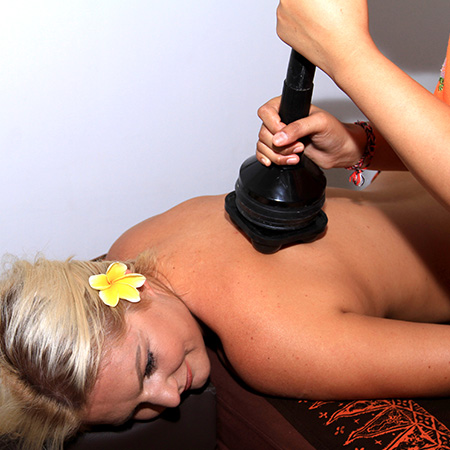 G5 TREATMENT
You've got to try it to believe it! Benefits are noticeable from the very first treatment. Your skin will feel tighter and firmer. Additional sessions are recommended to promote a longer lasting effect.
We use our own unique blend which is a combination of biomarine slimming and draining cream with thermal gel and cellulite oil containing essential oils.
The revolutionary G5 massaging machine helps eliminate cellulite, breaking down fatty deposits and dispersing these with excess fluid through the lymphatic areas.
This process allows an instant inch loss and a detox effect, as well as improvement in skin elasticity, collagen flow and blood circulation.
Benefits and effects on your skin
Helps skin function more efficiently
Improves skin texture
Enhances removal of waste products
Increases secretion of natural oils
Exfoliation creates soft, supple skin
Helps delay new wrinkles
Increases skin elasticity
Diminishes skin growths and wrinkles
Inhibits formation of skin imperfections
Post-liposuction smoothes skin