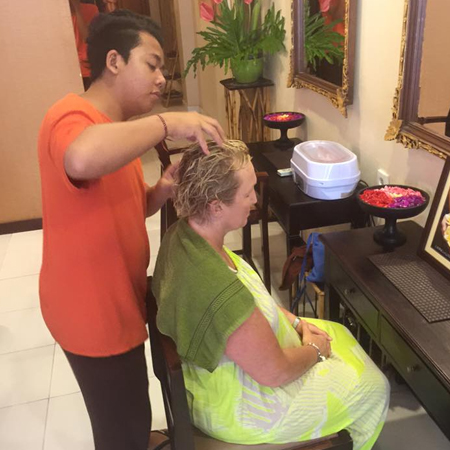 SHAMPOO & BLOW DRY

Who wants to spend time washing, drying and styling their own hair when you can sit back and relax while our stylists look after you? We guarantee your hair will look great and you'll feel relaxed and ready to step out into the world looking fantastic.
Traditional Shampoo and Conditioner
Short 50,000 rp
Medium 75,000 rp
Long 100,000 rp
HAIR CREAM BATH
Indonesian women are renowned for their sleek, glossy hair and part of their secret is a Hair Cream Bath. This bath is a thick coating of conditioner mixed with a natural ingredient to match your hair type. This healthy Cream Bath is massaged into your scalp and works its way through every strand of your hair. While the cream is softening, strengthening and conditioning your hair, your therapist will work their magic on your neck and shoulders.
TRADITIONAL CREAM BATH – 60 Mins 200,000 rp
Choose avocado for dry hair or Aloe Vera for oily hair
HAIR MASK – 60 Mins 200,000 rp
This treatment is especially suited to damaged hair as it moisturises and conditions while you enjoy a soothing neck and shoulder massage.